India vs Australia:- India Lead the Series with 2-0
On the third day of the second Test match between India and Australia, India secured a six-wicket victory, enabling them to retain the Border-Gavaskar Trophy. With this win, India now leads the four-match Test series by 2-0.
Scorecard :-
Australia :- 1st Innings : 263/10 India:- 1st Innings : 262/10
Australia :- 2nd Innings : 113/10 India:- 2nd Innings : 118/4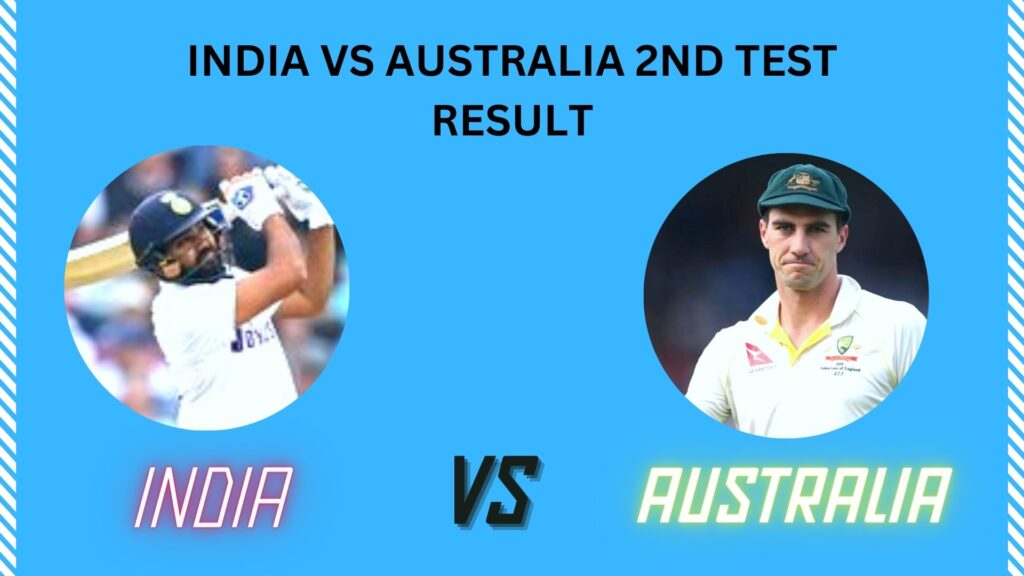 India Won the 2nd Test against Australia Match by 6 Wickets on Day 3.
That was a swift end, wasn't it? On the second day, Australian players were beaming with happiness after reaching 61/1 in their second innings. The Test match was evenly poised, with a potential for a thrilling finish. India was getting ready for a chase of over 200 runs. However, the situation changed drastically. Ravindra Jadeja started the destruction on the second day itself by dismissing Usman Khawaja, but most of the damage was done in the morning session when he swept through the Australian batting order like a hot knife through butter. He ended with impressive figures of 7/42 as the tourists crumbled against spin to be all out for 113 before the session ended. Notably, Ravichandran Ashwin was the bowler who sparked the collapse by removing overnight batter Travis Head on 43, finishing with three wickets.
India's chase began with the early dismissal of KL Rahul by Nathan Lyon in the second over. However, Rohit Sharma batted positively, hitting boundaries, and his entertaining innings of 31 was cut short due to a mix-up with Cheteshwar Pujara, resulting in his run-out. Virat Kohli was in good form, but he was stumped for the first time in his Test career, and Shreyas Iyer played a couple of decent shots before getting out.
However, Pujara continued to bat in his usual style and led a successful chase, hitting the winning boundary as India achieved the target in 26.4 overs to finish with 118/4, winning by six wickets. They now lead the four-match series 2-0 and have retained the Border-Gavaskar Trophy.
Player of the Match is Ravindra Jadeja:-
1st Innings : Scored 26 Runs and taken 3/68 Wickets.
2nd Innings : Taken 7/42 Wickets.
Scores Summary:-
Australia: 263 and 113 all out in 31.1 overs (Travis Head 43, Marnus Labuschagne 35; Ravindra Jadeja 7/42, Ravichandran Ashwin 3/59)
India: 262 and 118 for 4 in 26.4 overs (Rohit Sharma 31, Cheteshwar Pujara 31 not out; Nathan Lyon 2/49)
First Test Summary Click Here