Ganesh Chaturthi, also called Vinayaka Chavithi 2023 in the states of Andhra Pradesh and Telangana, is celebrated on the occasion of the birthday of Lord Ganesha. On this day, people worship Lord Ganesha or Vinayaka with great devotion and dedication. Lord Vinayaka blesses his devotees with happiness, success, and eliminates problems. He stays with them during difficult times.
In any program, Lord Vinayaka is worshipped first by Hindus. Then, they start their other programs. On this day, most Hindus fast and perform a puja.
In Andhra Pradesh and Telangana people celebrate Vinayaka Chavithi for 1 day to 11 Days based on their interest.
People in these states decorate their vehicles with decorative items and and houses with rangoli. People start their day with going to temples with new dresses and some people make puja in their home itself.
Vinayaka Chaturthi 2023 Puja Date Telugu
| | |
| --- | --- |
| Lord Name | GANESHA(VINAYAKA) |
| Chavithi Start Date | August 19, 2023 – 10:19 PM |
| Chavithi End Date | August 21, 2023 -12:21 AM |
| Puja time | 11:01 AM to 01:28 PM |
| Visarjan Date | September 28,2023 |
Vinayaka Chavithi 2023- Puja Vidhi
Wake up early in the morning before sunrise and complete your bathing.
Take a wooden plank and place the Lord Vinayak idol on it.
Light a lamp, incense sticks, and offer fruits, modak laddu to Lord Vinayak.
Then, offer fresh water in a copper utensil. Prepare some prasad at home and offer it to Vinayak. In the evening, distribute it among all family members.
Everyone should chant any one Vinayak mantra throughout the puja.
Later, complete the puja with Lord Vinayaka aarti with your family or alone.
If you are on a fast, do not eat any fruit or other food until the puja is completed.
Vinayaka Chavithi 2023 Puja Samagri
Fruits:- Apple, Oranges, Banana, Coconut
Sweets:- Payasamm(Kheer), Modak, Bundi Laddu
Other Materials:- Fresh Flowers, Wooden Plank, Ganga Jal or Fresh water in Copper Utensil, Lord Murti, Red,Cloth, Incense Sticks, Kapoor, Diya with Oil, Mooli, Supari, Kalash For Pran Pratista, Laal Chandan, Doorva, Yellow Mustard, Raw Rice, Elaichi, Paan Leaves, Haldi, Chandan, Honey, Lavang, Sindur
Vinyaka Chavithi 2023 Ganesha Names
SUMUK
LAMBODAR
VIDANHARTA
EKDANTAYA
VINAYAK
KAPIL
VIKATT
GAJANANN
GHOOMRA KHETU
BAAL CHANDRAYA
GANADAKSHAYA
VIGNAN SHASHAK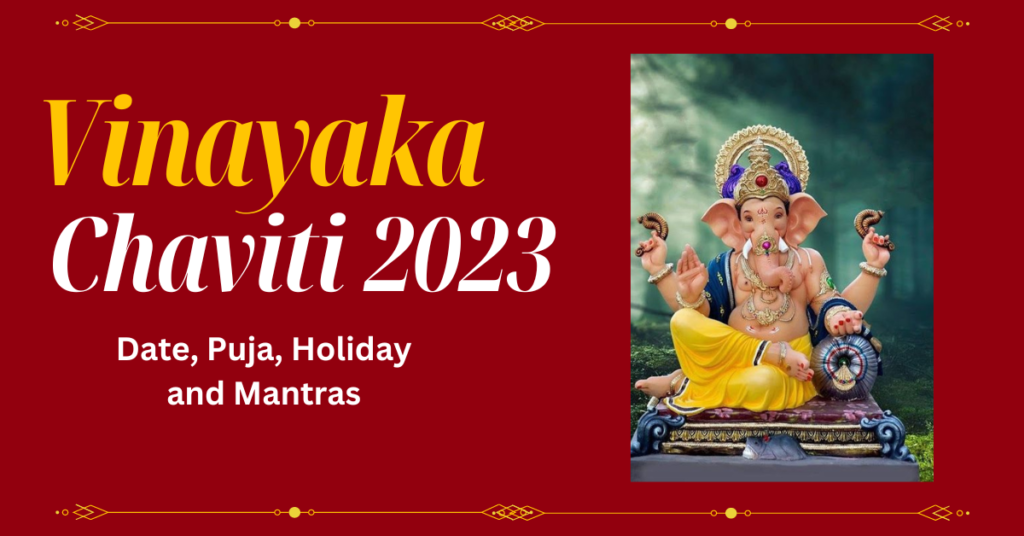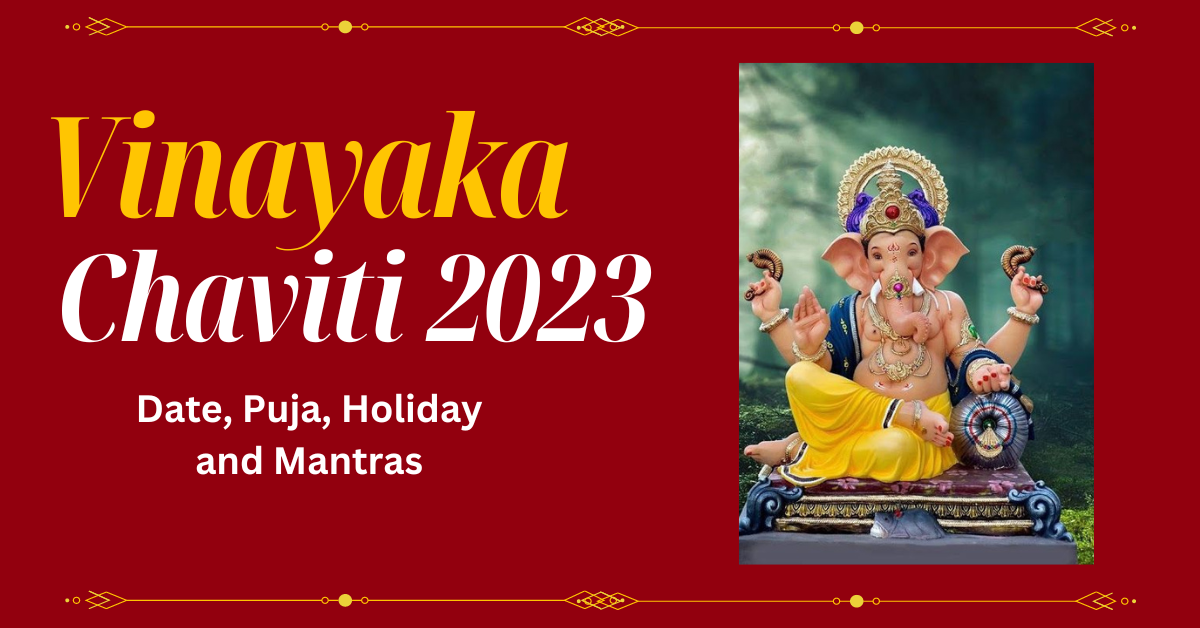 Most Powerful Lord Ganesha Mantras for Chanting while Puja on Vinayaka Chavithi
Om Gan Ganpataye Namah
Om Shree Ganeshaye Namah
3. Vakratunda Maha-Kaaya Surya-Kotti Samaprabha
Nirvighnam Kuru Me Deva Sarva-Kaaryeshu Sarvadaa ||
4. Aum Ekadantaya Viddhamahe, Vakratundaya Dhimahi, Tanno Danti Prachodayat॥
5. Om Lambodaraya Namah।
6. Om Vighnanashaya Namah।
7. Om Shreem Hreem Kleem Glaum Gam Ganapataye Vara Varad Sarvajan janmay
Vashamanaye Swaha Tatpurushaye Vidmahe
Vakratundaye Dhimahi Tanno Danti Prachodyat Om Shantih Shantih Shanthi
Vinayaka Chavithi Holiday 2023 in Andhra Pradesh and Telangana
In Andhra Pradesh and Telangana the Ganesh Chaturthi Holiday will be observed on September 19,2023. All Major government and private organisations will be closed for full day.
Vinayaka Chavithi 2023 Puja Date and Time
This year vinayaka chaturthi puja will be done on September 19 from 11:01 AM to 01:28 PM.
Vinayaka Chavithi 2023 Special Receipes in Andhra and Telangana
Pulihora 
Vada
Bobbatlu 
Annam Payasam
Appalu(Boorulu)
Chalimidi
Paala Undrallu & Kudumulu 
Most Popular Lord Ganesha Temples in Andhra Pradesh and Telangana
Sri Swayambhu Varasidhi Vinayaka Swamy, Kanipakam
Sri Siddi Vigneswara Swamy Temple, Ainavilli
Lakshmi Ganapathi Temple, Bikkavolu
Rejinthal Ganesh Temple,Medak
Most Popular Ram Mandir in India Check out Now
Download Whatsapp Status in super fast downloader App – Check Now