WHAT IS SBI Share
SBI Share is a Word that could refer to shares of the State Bank of India (SBI) that are publicly traded on stock exchanges.
SBI is a government-owned banking and financial services company headquartered in Mumbai, India.
It is one of the largest banks in India, and its shares are traded on the National Stock Exchange of India (NSE) and the Bombay Stock Exchange (BSE).
Investing in SBI shares allows individuals to own a portion of the bank and potentially benefit from its profits and growth.
However, it is important to note that investing in stocks carries a degree of risk, and the value of SBI shares can fluctuate based on various economic and market factors.
How much Loan Amount SBI Given to Adani Group
According to a source familiar with the matter, State Bank of India, the largest financier in the country, has provided loans of up to $2.6 billion or 21,000 Crores to companies within the Adani conglomerate, which is roughly half of the amount allowed under regulations.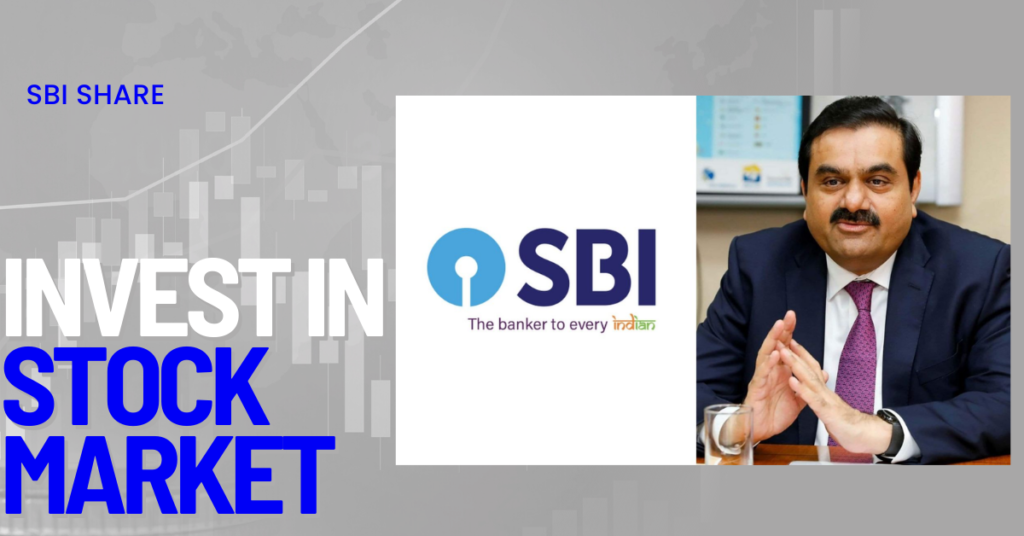 FUNDAMENTAL ANALYSIS OF SBI SHARE in 2023
Symbol: SBIN
Bank – Public
Symbol P/E: 11.09
Sectoral Index P/E: 15.36
Sectoral Index: NIFTY BANK
Face Value: 1.00
MARKET CAP: ₹ 4,72,825.93 Cr.
BOOK VALUE (TTM) : ₹ 333.71
P/B : 1.59
NO. OF SHARES : 892.46 Cr.
DIV. YIELD : 1.34 %
NET INTEREST INCOME : ₹ 1,20,707.59 Cr.
COST TO INCOME % : 57.91
PROMOTER HOLDING : 57.5 %
CAR % : 13.83
ROE : 13.01 %
ROCE : 8.27%
PROFIT GROWTH : 55.19 %
NET NPA : 1.02
ROA% : 0.67
Share Holding Pattern in SBI Share as of December 2022
Promoters : 57.5%
DII : 25.38%
FII: 10.09%
Public: 7.03%
FOR LIVE Cricket Score Download app – CRIC SCORE
Strengths of SBI Share
44.52% of total deposits is accounted for by CASA.
Over the past 3 years, the company has achieved a substantial profit growth of 232.43%
Limitations of SBI Share
The bank's track record for ROA is quite poor, with an average of 0.51% over the past 3 years.
The cost to income ratio is quite high at 57.91%.
Over the past 3 years, the company has recorded a disappointing income growth of only 4.29%.
Is it good time to invest in SBI SHARE IN 2023
The Indian banking sector is experiencing rapid growth due to infrastructure spending, favorable government policies, rising disposable income, increasing consumerism, and easier access to credit. However, it's important to ask whether it's the right time to invest in banking stocks. In order to make an informed decision, we can analyze the performance of individual stocks such as SBI.
Best APP's to invest in Indian Stock Market
UPSTOX
ZERODHA
GROW
MOTILAL OSWAL
FYERS
SBI SHARE MORE HELPFUL INSIGHTS
SBI's primary source of income is the interest earned on loans provided to individuals and corporates, with revenue of Rs 2,75,457.29 Cr. in the latest financial year. However, it has only posted a poor revenue growth of 4.29% over the last 3 years. In terms of advances, SBI has reported a YoY rise of 11.61%, while the 3-year advance growth stands at 7.74%.
SBI's CASA ratio currently stands at 44.52%, with an overall cost of liability at 3.46%. The total deposits from these accounts have reached Rs 40,51,534.12 Cr. SBI's ROA track record is average, with an ROA of 0.67%.
The bank is efficiently managing its overall asset portfolio, with gross NPA and net NPA at 3.97% and 1.02%, respectively, as of the latest financial year. Another important measure of the bank's financial health is its provisioning coverage ratio, which has decreased YoY by -44.44%, indicating a decrease from the previous year.
Non-interest income or other incomes are also essential for banks as it provides a regular source of income with no additional risk. Unfortunately, SBI's other income has decreased and currently stands at Rs 40,563.91 Cr.
SBI has a good capital adequacy ratio of 13.83. The best metric that provides insights into the bank's valuation is the P/B ratio, which is currently trading at 1.57, compared to its historical average PB of 1.32.
For more Information- Check Here
What is SBI Share
It is a Public Bank Share of India
Where is SBI share traded
It is traded in Indian Stock Exchange
Is SBI Share Public or Private Bank
IS SBI SHARE IN Nifty 50 INDEX
Yes it is in Nifty 50 Index